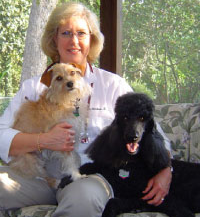 Education: Texas A&M University School of Veterinary Medicine
Dr. Julie Striekert has been an active member of the veterinary community in San Antonio for the past 21 years. She earned her veterinary degree from Texas A&M University School of Veterinary Medicine in 1985. She is a member of the American Veterinary Medical Association, the Texas Veterinary Medical Association, and the Veterinary Medical Association of Bexar County.
Her practice philosophy has always been based upon treating her client's pets as if they were her own. She enjoys all aspects of veterinary practice especially nurturing the human/companion animal bond. She is very committed to bringing the highest quality of medicine and surgery to all her patients through continued education.
Dr. Striekert's 4-legged family includes Kelly, a 13-year-old Standard Poodle, Dixie, a 2-year-old Terrier Mix, and Bunny, a 12-year-old domestic shorthair cat. In her spare time she enjoys playing golf, gardening, and exercising.